Top 7 Common Myths on Hiring Accounting Services, Debunked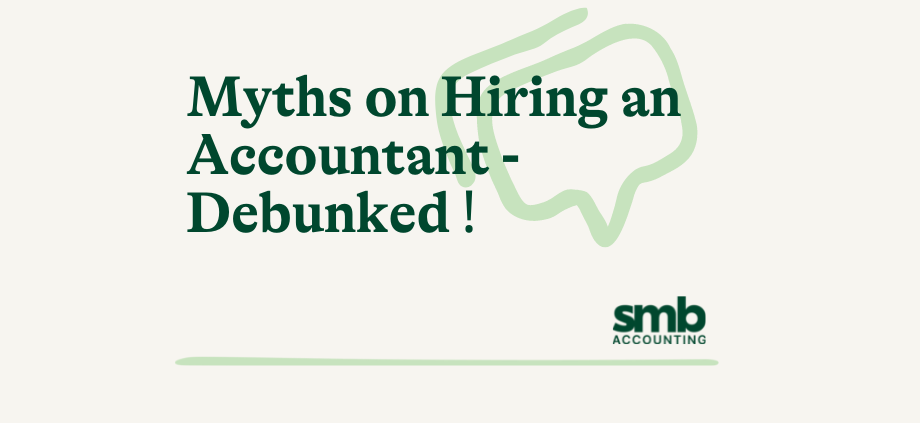 Accounting business services are often shrouded in mystery, with many people believing some myths about them. In reality, however, accounting business services are vital to any business and can provide some benefits.
You may have heard a lot of myths about accounting firms on the Sunshine Coast. Here are some of the most common myths:
Myth: Accounting Firms Exclusively Handle Tax Preparation and Accounting
Contrary to common belief, it is untrue in practice. Professional small business tax accounting in Australia considers your organisation's health in addition to addressing your taxes. 
Make sure you generate enough revenue and effectively handle the accounting processes.
They are responsible for some tasks. Accounting is used for more than just tax accounting. 
Financial accounting, the creation of financial statements, cash management, auditing, and assurance services are other key accounting characteristics. These features require some activities and processes.
Myth: Manual Bookkeeping Might Result in Financial Savings
Nobody would choose to forfeit money in favour of foolishness. Some accounting firms in Australia provide cost-effective corporate accounting services to assist small and medium enterprises with their accounting and tax requirements.
Therefore, there is no rationale for performing every task by hand, as doing so would make things more difficult. 
With cutting-edge software solutions like XERO, QuickBooks, etc. Many top accounting companies in Melbourne can assist you in automating all financial management tasks for your business.
Myth: Small Firms Don't Require the Assistance of Accountants
Regardless of the company's size, we must make every effort to ensure its financial stability. The most important enterprises are little ones. Melbourne's small companies have suffered greatly due to the pandemic's effects, such as lockdowns and market restrictions, as well as its sudden arrival.
Three alternatives are left for small business owners and startups: do it yourself, hire someone, or outsource it to an accounting service provider. The greatest choice among the alternatives for small firms is to hire an accountant on Sunshine Coast. 
Myth: Using A Third-Party Accounting Firm Costs a Lot Of Money
This is completely untrue. When you manage to account internally, you must pay for an expensive specialist resource. In addition to perks like paid time off, insurance, and payroll taxes, they also receive a paycheck from you.
However, you must make a project-based or hourly payment if you outsource your accounting requirements. By doing this, you pay for your efficient and helpful services. Additionally, it allows you more time to concentrate on tasks that increase your revenue and clientele.
Myth: Employing an Accountant Can Boost Output
Professional accountants on Sunshine Coast, QLD on staff full-time would undoubtedly increase productivity and help firms save money. The best option is not to hire someone to supervise accounting operations and use accounting software to check the accuracy of the job generated.
You can experience pressure if you have a small team of accountants and a limited quantity of time. Hiring a full-time employee costs money, and expanding your staff does not ensure faster business success.
Myth: Companies Should Give Accounting First Priority Throughout Tax Season
The tax season causes a significant rise in stress for many business owners. The unfamiliar may become lost in the sea of taxes, exclusions, rules, deadlines, and compliance.
While paying close attention to your money daily is required to maintain a strong financial position for your company, it is crucial. Businesses often utilise accounting services to spot irregularities and prepare for unforeseen financial problems.
Myth: It's Challenging to Choose the Best Accounting Partner
Small firms are sustained by their ability to manage their finances and preserve market competitiveness successfully. This occasionally calls for hiring anybody who comes your way.
The best accounting firms aim to give you more control over your employment choices. With the help of these suggestions, you may streamline the procedure and be ready for the most challenging parts of choosing an accounting firm.
Conclusion 
There are many myths surrounding accounting and business services. However, these myths are often unfounded and based on misinformation. With the right information and guidance, businesses can save time and money by outsourcing their accounting and business services needs.
SMB Accounting offers services for individual tax returns, small-business accounting using a variety of small-business accounting products, SMSF audits (self-managed super funds), and an accounting firm based on the Xero accounting software. In addition, we provide audits for trust accounts, nonprofit organisations, special needs audits, audits of financial statements for specific purposes, and more. Hire our accountants on Sunshine Coast QLD today!
https://www.smbaccounting.com.au/wp-content/uploads/2022/09/Myths-on-hiring-an-accountant.png
600
920
teamsmb
https://www.smbaccounting.com.au/wp-content/uploads/2021/11/logogreen.png
teamsmb
2022-09-23 22:10:43
2022-10-04 11:58:41
Top 7 Common Myths on Hiring Accounting Services, Debunked