Unlocking the Power of Xero for Your Small Business Accounting Needs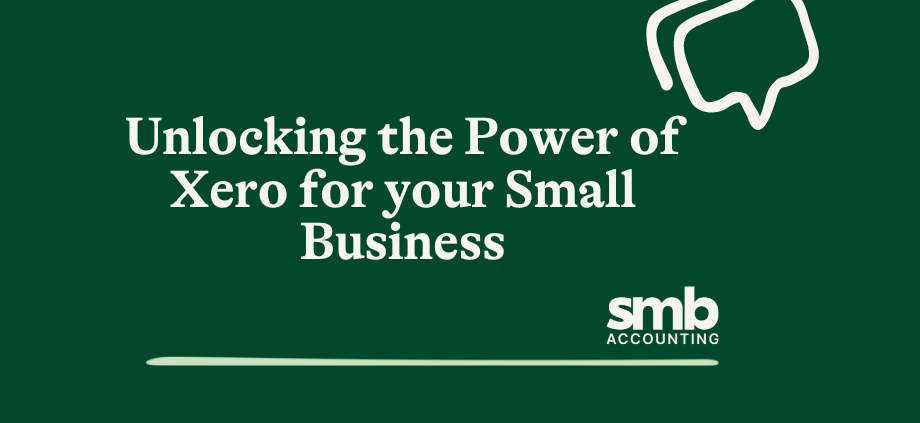 Managing your small business's finances can be a complex and time-consuming task, particularly without the right tools at your disposal. Xero accounting software offers a sophisticated, user-friendly solution designed specifically for small businesses. With its myriad of features designed to streamline your financial processes and provide real-time insights, Xero can transform how you handle everything from invoicing and payroll to expense tracking and financial reporting.
In this blog, we will explore the numerous benefits that Xero can offer small business owners and discuss how the team at SMB Accounting can help you harness the full potential of this powerful software. 
By choosing Xero as a fundamental tool for managing your small business finances – and enlisting the support of SMB Accounting's expert team – you can unlock greater efficiency, financial clarity, and the ability to make more informed decisions for the future growth of your enterprise.
Core Features of Xero
Xero accounting software offers a wealth of features that cater to various aspects of small business financial management, including:
Invoicing: Generate customisable, professional invoices quickly; set up automated payment reminders and recurring invoices for clients with regular billing.

Payroll: Streamline the payroll process with automatic calculations for wages, superannuation, and other employee entitlements; prepare necessary reports for compliance effortlessly.

Inventory tracking: Keep tabs on your stock levels and manage your inventory efficiently with real-time updates.

Bank reconciliation: Automatically import bank transactions and reconcile them, giving you an up-to-date view of your cash flow at any given time.

Financial reporting: Access a range of real-time financial reports, including profit and loss statements, budgets, and cash flow forecasts.

Expense tracking: Snap photos of receipts and upload them into the system, enabling seamless organisation of expenses and automatic updates of your financial records.
By harnessing these powerful features, you can simplify a range of financial tasks and create a more efficient and organised system for managing your small business finances.
Advantages of Using Xero for Your Small Business
Implementing Xero in your small business can provide a wealth of advantages, including:
Time-saving automation: Automate common financial tasks, such as invoicing, payroll, and bank reconciliation – freeing you up to focus on other areas of your business.

Improved financial visibility: With real-time financial data accessible from any device, you can make more informed financial decisions and gain a clearer understanding of your company's current financial standing.

Seamless integrations: Xero integrates with a vast array of other essential business tools, such as CRM systems, point-of-sale software, and e-commerce platforms – creating a cohesive and streamlined workflow.

Collaborative environment: Give your team, bookkeeper, and accountant access to your financial data, enabling them to collaborate and work together more effectively.

Scalability: As your business grows, Xero's flexible nature can adapt to your evolving needs, providing you with continuous support throughout your growth journey.
Customising Xero to Suit Your Business Needs
To maximise the effectiveness of Xero for your small business, it is essential to customise the software to align with your specific requirements and industry best practices. Key strategies for customising Xero include:
Tailoring the chart of accounts: Modify the default chart of accounts to align with your business's needs, ensuring accurate tracking and categorisation of your financial transactions.

Setting up tracking categories: Create custom tracking categories to monitor the performance of different aspects or departments of your business, such as regions, products, or services.

Utilising Xero's add-on marketplace: Explore Xero's extensive range of third-party add-ons and integrations, enabling you to further enhance the software's functionality and adapt it to your unique requirements.

Customising financial reports: Configure your financial reporting templates to highlight the most critical data, allowing you to focus on the essential metrics for monitoring business performance.
Partnering with SMB Accounting for Xero Support
The team at SMB Accounting offers comprehensive, expert support in utilising Xero for your small business financial management, including:
Xero setup and training: Receive assistance in setting up your Xero account and tailoring the software to your specific needs; participate in hands-on training to ensure you and your team can confidently navigate and leverage Xero's features.

Ongoing advice and support: Take advantage of our team's expert advice to address any questions or concerns you may have about Xero, from navigating advanced features to troubleshooting issues.

Accounting and bookkeeping services: SMB Accounting can support your financial management needs through a range of Xero-related accounting and bookkeeping services, offering peace of mind that your financial records are always up-to-date and accurate.

Customised Xero add-on recommendations: Our team can suggest and help implement tailored Xero add-ons based on your industry and specific needs, ensuring you make the most of the software's capabilities.
Conclusion
Xero accounting software represents a powerful tool for managing your small business finances with efficiency, clarity, and confidence. By utilising Xero's diverse features, customising the software to your unique requirements, and partnering with the knowledgeable team at SMB Accounting, you can transform your business's financial management processes and unlock the full potential of your enterprise.
Make the leap into the world of Xero today and let SMB Accounting guide you every step of the way, ensuring a seamless and fruitful journey towards financial success. Check out our reliable small business accounting software now. 
https://www.smbaccounting.com.au/wp-content/uploads/2023/08/A-new-kind-of-accounting.png
600
920
teamysb
https://www.smbaccounting.com.au/wp-content/uploads/2021/11/logogreen.png
teamysb
2023-08-04 08:31:46
2023-08-07 10:16:26
Unlocking the Power of Xero for Your Small Business Accounting Needs