A Step-by-Step Guide to Finding the Right Business Accountant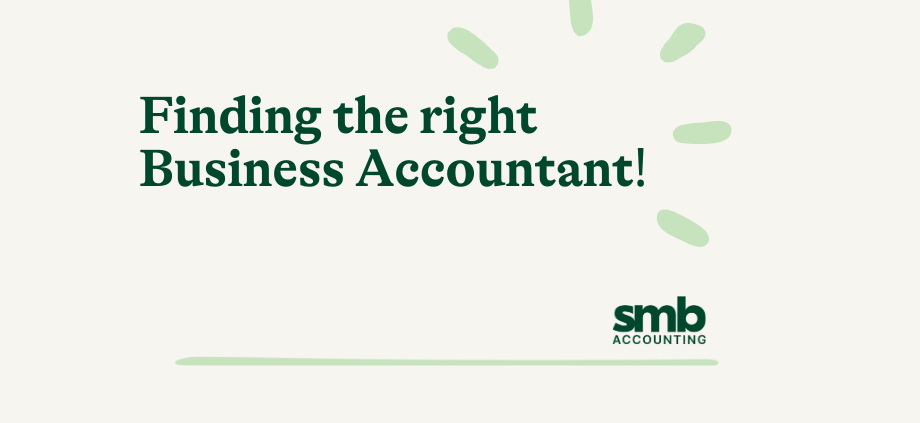 Starting a business can be challenging and exciting. As a business owner, you would need a dependable and well-versed account to handle your money and assist you with making informed business decisions. 
However, with so many accountants to choose from, finding the right one can take time and effort. This guide will take you through the process of choosing a business accountant.
Step 1: Determine Your Accounting Needs  
Assessing your accounting needs means figuring out what type of accounting services you require, such as bookkeeping, tax preparation, financial reporting, or business planning. 
You should also determine whether you need someone to handle all your accounting tasks or just a few, as well as whether you need help with budgeting, forecasting, or managing cash flow. Once you know what you need, you can look for an accountant specialising in those areas.
Step 2: Look for a Certified Accountant
When searching for an accountant, find someone who is certified and accredited. The two main accounting bodies in Australia are the Institute of Public Accountants (IPA) and the Certified Practising Accountants (CPA). 
Accountants who are members of these organisations have undergone rigorous training and are held to high ethical standards. They also have access to ongoing professional development and training, which ensures that they know the latest accounting practices and regulations.
Step 3: Consider Their Experience
It's always best to find someone who has previously worked with companies similar to yours and possesses a clear comprehension of your industry. Inquire about their experience handling businesses like yours and if they have any specialised knowledge or skills. Obtaining references from previous clients can also provide insight into their work style.
Step 4: Assess Their Communication Skills
Good communication is key when working with an accountant. You want someone responsive, easy to talk to, and can explain financial concepts in plain language. When talking to potential accountants, pay attention to how they communicate. 
Are they clear and concise? Do they ask questions to understand your needs? Do they take the time to explain complex concepts in a way that's easy to understand? If you find someone who ticks all these boxes, you'll likely have a successful working relationship.
Step 5: Consider Their Technology and Software Knowledge
An accountant who is tech-savvy and up-to-date with the latest accounting software is a must. Find out if they use cloud-based software or desktop applications and are familiar with accounting software such as Xero or MYOB. A proficient accountant should be capable of suggesting the most suitable software for your business and assisting you in its setup.
Step 6: Evaluate Their Fees
When looking for an accountant, choose someone honest and straightforward about their prices. To do so, ask potential accountants about their pricing system, including any extra costs or fees. Additionally, inquire about their payment policies, such as when bills are due and how frequently they will be sent. 
While expenses are a significant factor, it's critical to find an accountant who is suitable for your business and can offer the services you require.
Step 7: Schedule a Consultation
After shortlisting potential accountants, arrange a meeting with them in person. This is an excellent chance to have any further queries answered and to understand their working style and personality. 
During the meeting, ensure you communicate your accounting requirements and objectives and request a proposal outlining their services. This will allow you to make a well-informed decision about which accountant is most suitable for your business.
Conclusion
Finding the right business accountant may seem daunting, but by following these steps, you can simplify the process and find the perfect accountant for your needs. Consider your specific accounting needs, look for a certified accountant with relevant experience, assess their communication and technology skills, and evaluate their fees.
At SMB Accounting, we are committed to offering high-quality accounting solutions to small- and medium-sized businesses. Our accountants in the Sunshine Coast will help you understand your needs and provide tailored services that meet your accounting requirements. Call 1300 854 159 to schedule a consultation and learn how we can help your business grow.
https://www.smbaccounting.com.au/wp-content/uploads/2023/03/Finding-the-right-Acc.png
600
920
teamysb
https://www.smbaccounting.com.au/wp-content/uploads/2021/11/logogreen.png
teamysb
2023-03-30 18:30:04
2023-04-11 09:48:04
A Step-by-Step Guide to Finding the Right Business Accountant